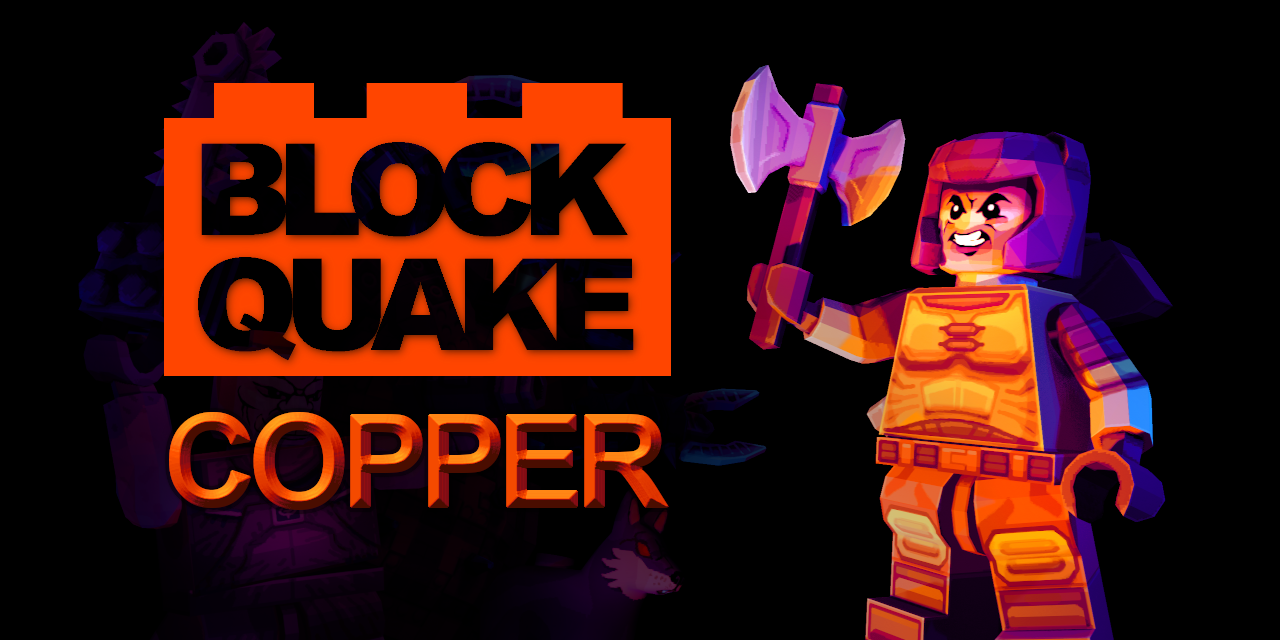 Block-Quake
A total conversion mod for Quake featuring familiar plastic blocks.
Block-Quake features the Vanilla Pak version 1.1 and includes support for Copper using the new Copper Pak version 1.1
blockquake_vanilla.pak is designed to replace models and monsters from Quake. This pak can be combined with most id1 styled mods and maps.
Both of these Block-Quake paks are compatible with the Quake Remastered version of Steam and support the official add-on campaign Underdark Overbright & Copper (udob). Please note, that the installation process is different depending on which source port you use, more information below!
Mods and Maps:
The Block-Quake mod can only convert the original "id1" or "copper" file contents. If you play another mod that uses "id1" as it's base, like a map-jam, everything should work just fine.
If you are playing a large overhaul mod that adds new enemies and weapons like Arcane Dimensions or Alkaline, expect to see a lot of unblocky looking enemies and weapons. Big mod projects like those won't be supported with blocky content for a very long time, sorry!
A blocky themed enemy test room is included with the blockquake_vanilla.pak. To play it, open the console and type:
"map blocky_devroom_vanilla_v4" then press enter.
I'm hoping to add lots more maps after the Blocky texture pack is complete!
Supported Source Ports:
QuakeSpasm (version 0.93.2 or higher)
QuakeSpasm-Spiked
DarkPlaces
Qrack
JoeQuake
Quake Remastered KEX engine.
Ironwail (highly recommended!)
Completed progress:
Blocky themed characters, enemies and boss models, textures and animations.
Blocky themed weapon pickups, weapon model textures and animations.
Blocky themed ammo, armor, items, projectiles, props and powerup models.
Blocky themed test map (blocky_devroom_vanilla_v4).
New Copper content: 20fps axe, Knight fixes, colored keys and backpacks
Future Features:
Blocky themed sound effects for weapons, enemies and objects.
Blocky themed hud and gui graphics.
Possible mod support for online multiplayer modes like QuakeWorld CTF (maybe!)
Finish the blocky blood gib models for the source code overhaul version.
Implement the new source code changes for a ProgsDump version.
Create a "Friendly" version with mature themes censored for younger audiences.
Finish the blocky texture wad, possibly replacing the "id1" wad?
Create some blocky themed maps and maybe have a Block-Quake Map-Jam! (eventually)
Changelog:

Block Quake - Copper 1.1
Fixed off-center model origin point for ammo and health pickups
I have lots of features planned that I'd like to include, but these will take a long time to create and implement, thank you for being so patient, see you in the future! -Kebby_⚙️
For more blocky news and updates, check out the Blocky-Discord: Block-Talk
Install instructions
Block-Quake Vanilla & Copper
with Quake Remastered on Steam
For more information and a detailed step-by-step guide on installing Block-Quake Vanilla & Copper for Quake Remastered, see the Readme PDF.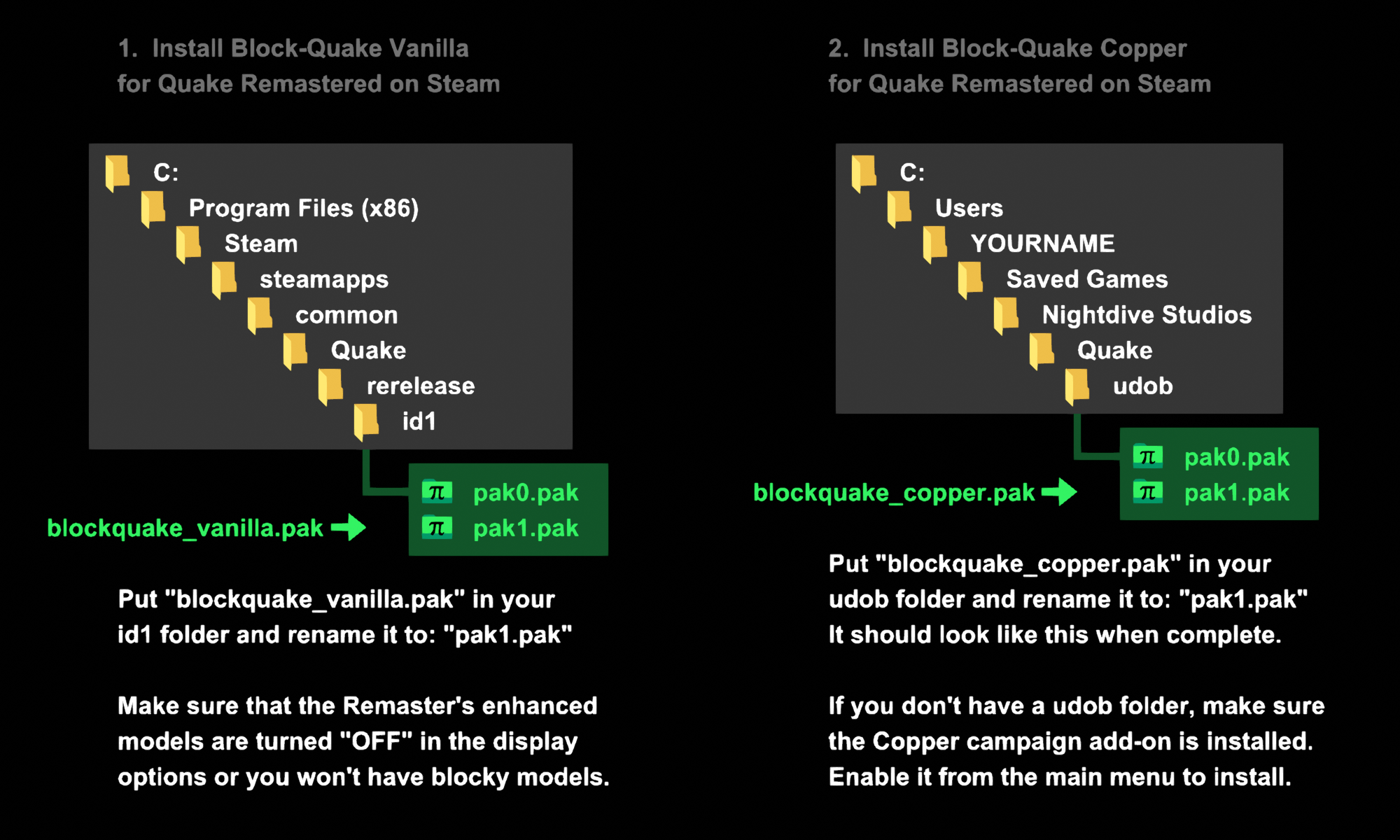 Block-Quake Vanilla with Source Ports
If you are playing Quake with a Source Port (not Quake Remastered) place the "blockquake_vanilla.pak" into your source port's "id1" folder. Rename the blockquake_vanilla.pak to: "pak2.pak"
If you just want to play Block-Quake Vanilla, you're all done, have fun!
Block-Quake Copper with Source Ports
If you want copper mods to work with Block-Quake, you'll need to add the Block-Quake Copper pak into your copper game folder.
You'll need to already have a copper game folder installed in your main source port directory. For more information about the copper mod, read through the guides on the official copper site, here: http://lunaran.com/copper/download/
Once you've setup your copper game folder, place the "blockquake_copper.pak" inside and rename it to: "pak1.pak"
Now run your Quake source port, while in-game open the command console with tilde "~" and type "game copper". If everything is installed correctly, you should see a block background and a Copper colored Q in the menu. Have fun!
Uninstalling Block-Quake
While uninstalling, be careful not to accidentally delete your Quake game files! Always make sure you know which files are being removed. Double check the file dates if you are unsure which pak is which.
Block-Quake Vanilla: remove "pak2.pak" from your source port's "id1" folder.
Block-Quake Copper: remove "pak1.pak" from the "copper" game folder.
An alternative option is to just rename the paks back to: "blockquake_vanilla.pak" and: "blockquake_copper.pak" respectively. This method disables the blocky content, without deleting anything, and you can re-enable it by renaming it back.
More information about uninstalling the Quake Remastered paks is in the Readme PDF.
Download